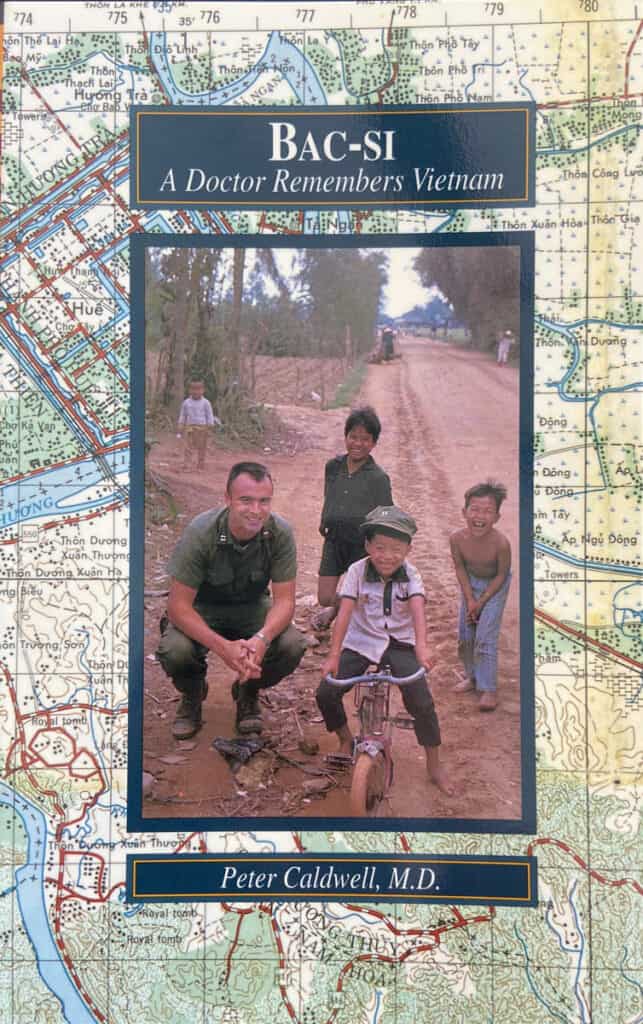 ISBN: 0-9626124-05
1991
$9.95 $8.45 with publisher's discount

In a nutshell, the idea for this book came about because of a journal kept during the year spent in Vietnam as a Navy doctor with the Marines in 1966-1967. Encouraged by my mother, who wisely reminded me that I would probably forget some things over the years, I filled small notebooks writing about each day "in country." Some memories remained vivid of course, but even now, I can go back and read entries that have largely faded away. Thank you, mom!
As the years passed and Americaʻs involvement in that unfortunate country ended, books and movies took a retrospective look at the traumatic war years especially from the combat perspective. I felt strongly that it was important to present a more balanced portrayal of that period, especially focusing on some positives that came out of our presence there. We became involved with the care of Vietnamese civilians in addition to military personnel. Because of our medical status, we were able to enter the world of the Vietnamese civilians and see another side of the war. Even now the historical record is changing with the access to North Vietnamese archival material and there will be additional perspectives to the strategies, the major players, and the conduct of the struggle.
I believe Bac-si accomplished its goal, and the book has taken its place in the extensive literature of the war. I still get requests for some of the black and white images in the book, all taken from Kodachrome film with my trusty Olympus Pen F half-frame camera, which my dad gave me because of its small size and double the images from a 36-exposure roll. Some of these photos made the trip back to Vietnam with me on medical mission trips in the nineties. They caused quite a stir when we were able to return over thirty years later to villages and former wartime locations.
Listen to author Peter Caldwell talk about the story behind the book
As the helicopters roared angrily off, we all paraded back to the dispensary. The accompanying children were dashing around playing and laughing, and the mood of the whole group seemed friendly, with lots of smiles in my direction. Was I ever relieved the crisis was past, and at least on the maternal side, there were probably not going to be any complications, although infection was still a concern. Still, it didnʻt seem like a time for a lot of happiness what with two dead infants. A little puzzled, I turned toward Bac-si Manh with a questioning look. "Dai-uy Bac-si," he told me with a smile, "The people believe that your medicine in the bottle made the baby come out and saved the womanʻs life. You are a hero."

The IV? Iʻd forgotten all about it – but there was nothing in it except sugar water. What a way to get a good reputation, I laughed to myself. Modern medicineʻs miracle drug – a little dextrose and water and a lot of luck saved the day. I was just hoping there were no further obstetrical emergencies to test my newfound cure-all. I was a hero in Dai Loc for the moment, but I was a dirty word in the helicopter squadron."
---
Reviews
"…not a rehash of M*A*S*H but a well-told account of a physician's experiences in the middle of a deadly and misunderstood war…..a vivid look at the people not fighting it."
Honolulu Star-Bulletin
"…a moving insider's view of Vietnam and its people."
Pasadena Star-News
"…well-written perspective on the rigors and the toll of the war on American soldiers and the lives of the Vietnamese."
Small Press Book Review
Southport, CT
"…a wonderfully different view of the Vietnam conflict."
The Book Reader
"…a Vietnam few have ever seen or read about…a vivid chronicle."
Pomona College Alumni
Bookshelf
"…compelling photographs."
Small Press Magazine
New York