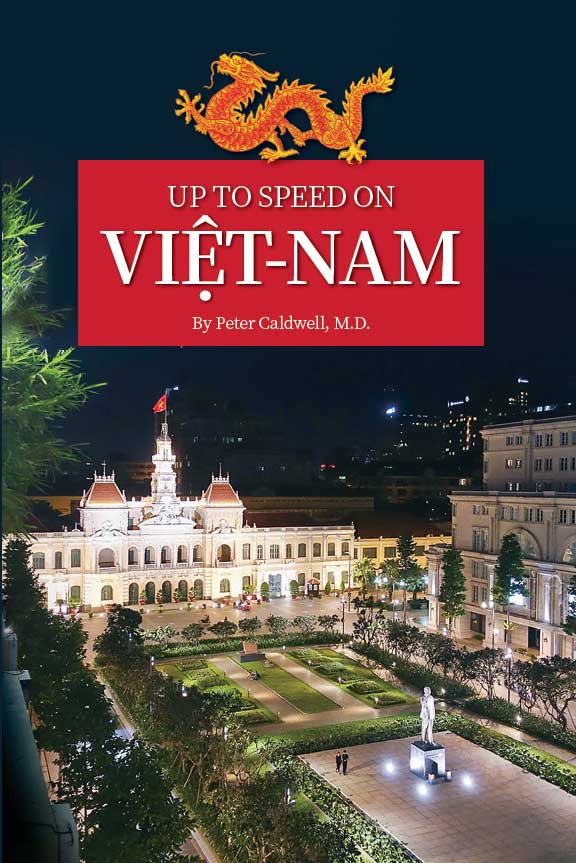 ISBN: 9780962612473
2020
Paperback: $9.95 $8.45 with publisher's discount
Kindle eBook: $4.25

Accumulating newer material over ten years, this book became the first print on demand and eBook title for me. After preparing the manuscript and researching several options, I decided to go with Amazon's KDP publishing service. With a lot of help from Jennette Green of selfpublishingnerd.com plus cover design by Cindy Turner, the end result was a concise 148-page book with two photo sections bringing the reader "up to speed" on a number of issues.
With the publication of newer material especially on the Vietnamese side, Up to Speed on Việt-Nam reviews its effects on the previous historical conclusions regarding the Việt-Nam War era. Having served in Việt-Nam in 1966-1967 as a Navy physician with the Marine Corps, the author discusses his own return to Việt-Nam on four occasions, most recently in 2015. Additional material includes photos from the author's personal collection and a special section focusing on the intriguing postal history of the Việt-Nam War period. Touching also on current Agent Orange and PTSD data as well as a look at Việt-Nam today, this well-researched account adds to the evolving historical record of the Việt-Nam War.

The book is available on Amazon in either format and initial reviews have given it five stars. Academic reviews are also pending, but so far the commentary from historians such as Drs. Mark Moyar and C. Dale Walton has been favorable.
For ordering any of these titles a publisher's discount is available. For pricing including shipping rates etc. go to the order page. Special requests like personalized copies are also available.
Listen to author Peter Caldwell talk about the story behind the book
---
Reviews
"Up to Speed on Viet-Nam" is a laudable, honest and sincere effort to shed more light on this turbulent chapter of our history. I could not recommend it more highly. 
C. L. Hoang
Author of several Vietnam books, most recently In the Shadow of Green Bamboos (2020)
 
"…the book is an important document for all – both sides of the ocean and of that disruptive moment in history: It should be read by veterans and families of veterans and the general populace as well for a more extensive understanding of what Vietnam meant and means."
Grady Harp
Top Amazon Contributer
Phil Jennings
Author, The Politically Incorrect Guide to the Vietnam War